Schedule Release Date

: Fall 2011
Box Configuration

: 5 cards per pack, 20 packs per box
The return or Parkhurst hockey, a product that we have not seen since 2005, should make collectors very excited. The Parkie brand started in 1951 before disappearing in the 1960s, but made a resurgence in 1991. Between 1991 and 2005 the brand bounced around from Pro Set to Upper Deck to In The Game back to Upper Deck before being shelved for a bit. Now Upper Deck has gone full force in another resurrection of the brand and they have done a wonderful job in this re-release of the brand.
Being an artist myself the wonderful artwork included in this set is a huge draw for me, Upper Deck goes above and beyond finding the right artist for their sets and it shows. Going back for many years now Upper Deck has shown love to the art world with their releases and this set continues that tradition.
Upper Deck created a 160 card base set and each card also has an autographed parallel version (hard signed too):
Not included as part of the base set is a 57 card mini card set which are based on original artwork created by artist Ron Stark. Minis come 1 per pack.
The product has some huge positives including hard-signed autographs parallels, multi-signed Wire Photo cards, Parkhurst Masterpieces, Champ's Signatures along with fossils and artifacts.
Like the Goodwin Champions Presidents Masterpiece hand-painted set Parkhurst Champions will include a hand-painted Masterpiece set made up of 3 players- Gretzkey as an L.A. King, Gordie Howe and Mark Messier as an Oiler. There will be 10 beautifully hand-painted copies of each star signed by artist Jared Kelly and the first card of each player will have a gold painted side-border to differentiate it from the other 9 cards.
Not a "Parkhurst" design but an Upper Deck product with the Parkhurst name
Based on retired players so modern player collectors may not be interested
Fossils and artifacts do not appeal to all collectors
I rate this at 4 1/2 out of 5 because the product is solid and really relies on players from the history of hockey, these are the guys who laid the foundation for what we see on the ice today. I am a old-school collector so that may be the additional draw for me to this release along with the love of fossils and other artifacts.
I want to include Upper Deck's list of the break down of the product because I do not feel like I can do it justice by listing the products out in my write-up. This list is posted on their Facebook page:
Regular Set:
Regular Cards (100)
Wire Photos, Single + Multi-Plyr. (30)
Renditions, Color + B/W(30)

Product Highlights:
Regular Card Autograph //'s (1:22)
Wire Photo Autograph //'s (1:400)
Parkhurst Masterpieces (# to 10)
Champ's Fossils & Artifacts (1:1,280)
Champ's Signatures (1:90)

Box Break: (on average)
Two Great Hits Highlighted by 1-2 Signature Cards
Five (5) Wire Photos cards (1 multi)
Two-to-Three (2-3) Renditions cards
Twenty (20) Champ's Mini cards

Case Break: (on average)
Ten (10) Renditions B/W cards
One (1) Fossils & Artifacts OR Champ's Red Ink (SP) Sig (# to 15) OR Parkhurst Masterpiece Sketch (# to 10) OR Wire Photo Multi-Player Autograph card OR Renditions B/W, Color Autograph card

Wire Images Autograph Parallels include players like Gretzky, Lemieux, Yzerman, Beliveau, Lindsay/Howe, Esposito/Bucyk/Orr all hard-signed.

Key Inserts:
Wire Photo Autographs:
Orr, Gretzky, Messier, Lemieux, Clarke, Beliveau, Lindsay; Howe/Bower, Hull Mikita, Messier/Kurri, Esposito/Orr; Esposito/Bucyk/Orr and more!

Renditions Autographs (Black & White variation):
Roy, Lafleur, Beliveau, Hull, Howe, Lemieux, Gretzky!

Champ's Signatures:
Orr, Mikita, Brett Hull, Messier, Lemieux, Bossy, Shutt, Bowman, Robitaille, Bucyk, Kurri, Sakic, Bower, Neely!
Some of the artifacts and fossils includes Greek & Roman coins

The brain cavity of an Auroch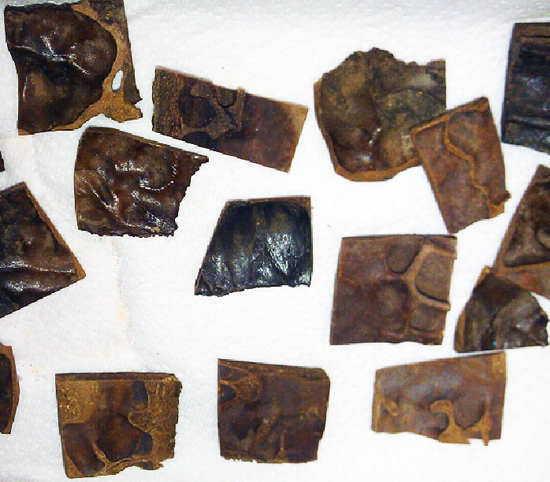 and teeth from a Spinosaurus.