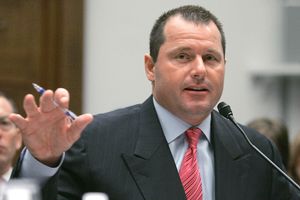 Roger Clemens has been indicted on 6 counts of obstructing a congressional inquiry based on statements he made to the House Committee in 2008 during the investigation of steroids in professional baseball. Does this change how you view him? Does this change how you collect?

Has this recent indictment affected his collectibility? The man has 354 wins (#9 all time), 4,672 strikeouts (#3) and a 3.125 ERA (#97). He has 7 Cy Young Awards, 1 AL MVP and an All-Star MVP Award, this man should be on top of everyone's collecting list but his prices are depressed. You can find autos for $50 and relics for under that. Sure there are plenty of his cards priced well over $100 and some even hitting in the thousands but do they sell?

What has caused this dominant pitcher's prices to drop out of the stratosphere since his final retirement? His stats are Hall Of Fame numbers but will he ever be inducted?

Has his connection to steroids caused the drop? How does this account for all of the A-Rod collectors still paying top dollar for his cards?

Has his gypsy like career caused a loss of fans? Would this not have affected players like Nolan Ryan and Reggie Jackson who also played for 4 teams each and still have legions of fans.

Does his a-hole standoffish attitude chase away collectors? This stands true for players like Barry Bonds, who also has dropped off of the collector's radar, but what about players like Jay Buhner, while not an ass-hole is very standoffish, who still draws fans with the Buhner buzz cut?

Growing up I was Yankee fan, a product of being born in New York, so I was not a Red Sox fan. I have never liked Clemens, even when he was with the Yankees, but how does he go from being a top billing to a footnote with an asterisk?