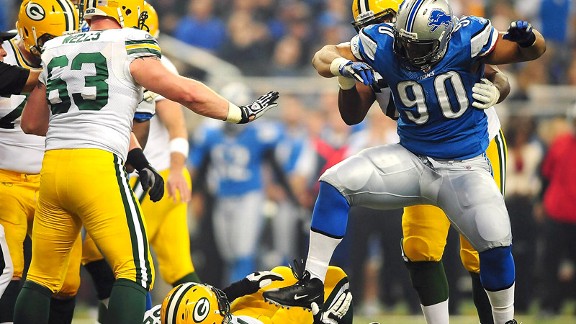 During Thursday's nationally televised game between the Detroit Lions and the Green Bay Packers, the Lions Ndamukong Suh was ejected in the 3

rd

Quarter after pushing the head of Packer's Guard Dietrich-Smith in to the ground three times then getting up and stepping on his arm. Suh claimed he was only "getting himself on balance" when he accidently set his foot on Dietrich-Smith's right arm but this seems to be an on-going situation. In only his second season Suh has been fined $42,000 (not counting the impending fine from this game) and even spoke with the NFL Commissioner to clarify the rules and why he was getting fined in October.
Surprisingly he was not fined for his vicious face mask on Falcons Matt Ryan during the game last month or the following push on Falcons Guard Joe Hawley after the game and then again he surprisingly missed being fined last week when he ripped off Bear's QB Jay Cutler helmet. Suh has even claimed innocence in most situations and it seems to be a concern to some people in the sports world, including ESPN, Sporting News and FOX Sports analyst (and former NFL VP of Officiating) Mike Pereira that he is either a straight up liar or does not realize the consequences for his actions.
As one of the few defensive players who's cards regularly draws collectors attention you have to wonder if a suspension will cool his prices especially if he continues to play in this manor?
I have to admit that before this game I did not feel one way or the other about Suh even though I have heard that he plays dirty. It is football after all and the hits will come hard and fast but when someone goes out of their way in an attempt to hurt a downed opponent is definitely beyond necessary. If his intent was to injure Dietrich-Smith I hope that a fine and possible suspension will get Suh on the right path because he is clearly one of the best Defensive Tackles in the game today and I would hate to see his career marred by bad decisions.